Bio of Grant Rogers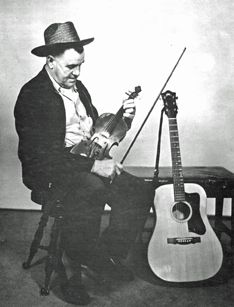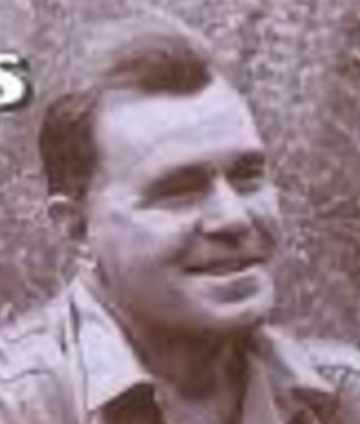 Grant Rogers was born in Walton, NY, in 1907 and died in 1979. He spent his teenage years in Sullivan County and then returned to the West Branch of the Delaware River in the area now occupied by the Cannonsville Reservoir. His father worked on the railroad and in local quarries. His mother was a fine musician (see FAMILY under ROOTS in Music Genealogy), and no doubt passed on some of her musical ability to Grant. When Grant was a child, their home was often filled with music, as was his and his wife Edna's home in later years.

Grant worked on construction jobs for a time after leaving school, and then went to work in lumber camps when construction work was unavailable. Like his father, he ended up as a quarry man, working in local area quarries, which he continued to do for the rest of his life. Sandy Paton, who interviewed Grant in 1965 for the LP record (and later CD) he produced (Grant Rogers, Catskill Mountain Songmaker, Folk-Legacy Records), described Grant's home at the time of his visit in the liner notes of the recording:
Grant Rogers' neat trailer home, with its comfortable front porch and well-groomed lawn, rests against the wooded slope of a hill by Wakeman Brook, not far from Walton, New York. Directly across the gravel road are several stacks of flagstones which Grant has cut from native rock into proper slab form. He does this during his spare time and sells the finished product for a little additional income. A short distance from his home, work crews are completing the new highway which circles the area soon to become the reservoir of the Cannonsville Dam. (Paton's liner notes, p.1.)
Perhaps the most important local historical event in Grant Rogers' life occurred in the late 1950s and early 1960s when New York City took over the land in the lower West Branch of the Delaware River in order to dam the river and create the Cannonsville Reservoir. This reservoir would then become a source of water for New York City. Five small towns were destroyed and their inhabitants forced to move to other locations. These communities included Beerston, Rock Rift, Cannonsville, Rock Royal and Granton. Grant and his wife Edna moved out of the valley when the project began, and the town of Rock Rift, where Edna was born, was one of the towns covered by water once the dam was built.

By the time the water filled the area in 1966, "94 farms were eliminated…and 941 persons displaced. All the level land in the Town of Tompkins had been submerged, and 19,910 acres were lost to the people of Delaware County." (P. 23 of Memories: Delaware County's Community Album, compiled and published by Helen Schriver-Zandt, July 2007).
It is understandable that even today former residents and their descendants greatly resent the coming of the reservoir. Grant, however, even at the time of Paton's visit with him in 1965, seemed to take a more philosophical view. In fact, he had already written his song "Cannonsville Dam" in which these words appear:
If you ever met a little child
From you he isn't sure.
If he asked you for some water,
Would you turn him from your door?
Now, like him, there's countless thousands
Leaning on our guiding hand;
All he wants is some water from our land,
All he wants is some water from our land.
GRANT ROGERS FIDDLER
Along with Grant's work life came music. Grant began playing fiddle as a child and, after absorbing the music he heard at barn dances and other social events, he started playing fiddle for dances. Most of his learning of tunes happened aurally, but he eventually realized it would be good for him to learn to read and write music. He told Sandy Paton the following:
"I'd hear one fellow fiddle a tune and maybe I'd hear another guy fiddle the same tune, but I could hear a difference in there….. So, I thought the best way to eliminate this was to learn to read music. And so I did. So I found a fellow to teach me. That got me started. Later on, I took a correspondence course… So after I could read music, I thought to myself, 'Well, if you can read this here stuff, why can't you write it?' That was when I started writing all these songs and fiddle tunes." (Paton's liner notes, p. 3)
One of the 80 some tunes composed by Grant Rogers was one he called "Rogers' Hornpipe." When he played it at the 1965 Philadelphia Folk Festival, someone commented that it was "the only true two-step jig that anyone had played at the session." (Paton, p.10) After thinking about it awhile, Grant acknowledged that he had misnamed it. Paton claimed that the tune is in the tradition of an Irish jig and "could have been brought over from Ireland 200 years ago."
Here we have Grant's rendition of his original jig, "Rogers' Hornpipe."
Rogers became an expert fiddler and square dance caller and often played for local square dances. He was also a member of a string band called Delaware County Ramblers that played for a year or so on the radio in Liberty.
[Also see the NEW YORK STATE FIDDLERS and CANADIAN FIDDLERS in the ROOTS section of Music Genealogy.

GRANT ROGERS SINGER/SONGWRITER
Grant said he started playing guitar around 1926 or 1927. He bought his first guitar in Georgia while working in the pinewoods. He said he never played it while there, but he would "stand around at night, in the shadows, and listen to them other guys play… guitar and banjo."
As for writing songs, Grant said:
"Sometimes when, if you're like me, you're sitting around alone, maybe thumbing around on the guitar, you know, maybe humming something and chording it with yourself. Well, them things will eventually go into words. You get some melody that you've never heard before, something just out of your imagination, well, anything like that should have a few lyrics to it. And that's what happens. Then you've got yourself a song." (Paton's liner notes, p.3)
Of course, all of his life, Grant listened to folk and country western singers on radio and on records as well as local singers in his area, all of whom influenced his singing in style and content. He became known locally as both a singer and fiddler and was eventually discovered by Norman Studer, who invited him to perform summers at Camp Woodland. (See CAMP WOODLAND in the ROOTS section of Music Genealogy.) It was here that Grant met the likes of Pete Seeger, Joe Hickerson, and other well-known folk singers, which led to other performance tours and appearances at folk festivals in the Northeast, including the Newport Folk Festival in 1966, and as far south as Washington, DC. Hearing the musicians at these festivals and at Camp Woodland probably encouraged Grant to write and sing songs about his own experiences and surroundings in addition to the more traditional ballads he was learning from records. One example of a Rogers' original is the song "Legend of Slide Mountain." Slide Mountain is the highest peak of the Catskills and takes its name from a landslide on its north side. Of his song, "Slide Mountain," Grant said:
"Everybody talks of Slide Mountain, asking 'why do they call it that? What does it do – slide?' Well, if it did, it wouldn't be there much longer, would it? It would wear itself out. So, I came up with an idea that there has got to be a reason to call it Slide Mountain. I had people sliding off of it, you know. No, I never heard any story like that about it; I just made it up. My wife tells me, if I could make a living on imagination, I'd be a millionaire!" (Paton's liner notes, p. 11)

GRANT ROGERS THE PERSON
When asked about their memories of Grant, what he was like as a person, his niece Fran Watson replied:
"Oh, he had a wonderful sense of humor, and sometimes you didn't know whether he was just kidding or it was the truth…. He wrote a song for his wife [called], 'I Picked a Lemon in the Garden of Love Where They Said Only Peaches Grow.'" (Fran and Leona Interview 1)
She continued:
"[He was] a great reader, and especially history. He was very up on history. In fact, when I graduated from high school, he bought my history books from me because he read them like they were [a] fiction story…. "(Fran and Leona Interview)
Here is Sandy Paton's description of Grant:
Grant is a burly, barrel-chested guy, with rugged features and, not surprisingly, the rough hands of a stone-cutter. He is also a very sensitive man, perceptive and compassionate. He is possessed of a delightfully droll wit and a sense of satire, which, while biting and penetrating, never slips into the ugly mire of maliciousness. Combined with these traits, one finds in Grant Rogers a chronic intellectual curiosity which has led him to read continuously since he left school after completing only the first eight grades and has developed in him a strong urge to examine independently every idea he comes across, from religion to the common myths of history. Grant reads a great deal of history, especially ancient history, which is his favorite subject. As Edna puts it, 'He's historied me to death!'
Present day musician Jay Ungar met Grant when Jay was in his late 20s. They were both part of The Traveling Folk Festival, and Grant, probably at that time getting close to age 70, was one of the acts. Jay said that Grant was very encouraging to him. Jay also noticed how Grant would interact with folks they met on the tour.
"…when we would arrive, let's say at a college or any kind of venue where we were going to perform, Grant would find the folks like the custodial staff and hang out with them. He'd maybe take his lunch and eat with those folks. That was how he liked to spend his spare time….. He also spent time with the other musicians, and we'd be up late at night playing tunes together and singing songs…. He was a friendly person that wanted to get to know people and what they were about, and not many people do that." (Interview with Jay Ungar 10/16/16).
Jay went on to describe Grant's music.
"[Grant's music] is more akin to Woody Guthrie in a sense that his songs are about personal experiences, the people around him, and situations that are real to him. He just did it because he felt it. His music may not have had as universal appeal as Woody Guthrie's wound up having, but it was coming from the same place." (Interview with Jay Ungar)
When Sandy Paton once asked Grant Rogers if he knew any other folksingers in the area he could interview, Rogers replied, "I'm not a folksinger." Paton pressed him further, "What are you then?" "Why, I'm a stone-cutter that makes up songs!" Paton continued, "What is a folksinger then," Rogers answered, "You know, one of them fellers like Burl Ives or Pete Seeger!"
Paton chose to consider Grant Rogers a bona fide folksinger, in that he created new songs or reworked the old ones "to suit his own fancy." He continued, "Grant Rogers creates songs under the cultural imperative of the tradition into which he was born; the songs ring true…. The folk are still making up good songs, and Grant Rogers is making up some of the best." (Paton, from back cover of LP "Songmaker of the Catskills.")
See Old-Time Music Makers of New York State by Simon J. Bronner, pp. 132-143, for a very thorough discussion of Grant Rogers and his music making.
For a more complete sense of Grant Rogers as fiddler, singer, and individual, see the video of Grant performing with Pete Seeger on the DVD "Rainbow Quest."
Below is a photograph of Rock Rift before the reservoir.

About the Project
GRANT ROGERS PROJECT
Tales, Ballads, and Tunes of the Western Catskills
This is an on-going collaborative project sponsored by the William B. Ogden Free Library and Music on the Delaware (MOD) of Walton, NY. Both organizations see the need to preserve the cultural history of this region as exemplified by the music, dancing, and storytelling of the area. The life and work of Waltonian Grant Rogers, along with that of other musicians from the early and mid-twentieth century, exemplify this history, much of which is in danger of being lost. We see this project developing in five stages:
First, to interview folks associated with Grant Rogers and local musicians, both those who contributed to the strength of the local culture and community during this early period, and those who have carried on the tradition up to the present. All interviews will be recorded. At the same time, we will gather relevant audio and visual material from this earlier period and, where necessary and possible, duplicate and preserve it.
Second, to develop a web site where these interviews and other preserved materials can be available to the community.
Third, to develop workshops using these materials in order to present this rich history to the community. Possible venues for offering these workshops will be libraries, parlor room at the Walton Theatre, and schools. We would also hope to video these workshops to include in the website archives.
Fourth, to make these resources available to other interested organizations in Delaware County and the surrounding area.
Fifth, if sufficient interest is generated by these activities and information, to present a project-related concert at the theatre.
We would like to acknowledge singer/musician Dave Ruch for the initial inspiration for this project. In October of 2014, Dave appeared at the Walton Theatre with his band, The Canal Street String Band. Prior to their concert, Dave sent the Townsend School music teacher music and words to two of Grant Rogers' songs, which the children learned and then performed with the band at the Saturday concert. This recognition of Grant Rogers gave impetus to the journey we are calling the Grant Rogers Project.
We would also like to acknowledge the following for their generous support: O'Connor Foundation; Hanford Trust; The Unitarian Universalist Society of Oneonta; Community Foundation of South Central New York; The Michelle MacNaught Memorial Fund, and private donors. And we want to acknowledge the folks we interviewed for the project as well as the volunteers connected to Music on the Delaware and William B. Ogden Free Library, Walton, NY.